Skip Navigation
Website Accessibility
Juki Kokochi DX-4000QVP Sewing Machine
Juki Kokochi DX-4000QVP Sewing Machine
The brand new Juki Kokochi DX-4000QVP is expected to release in the Fall of 2020. This new flag ship machine from Juki features 367 patterns, 6 fonts, a large illuminated workspace, LED Touchscreen and a snap & sew feed system.
---
Key Features:
368 PATTERNS AND 6 FONTS
Create infinite possibilities with built in stitch patterns and fonts. Stitch patterns include decorative, buttonhole, practical and quilt.
LARGE ILLUMINATED WORKSPACE
Dual LED lighting illuminate the large 22.4" x 13.6" workspace area with 12" throat space.
LARGE LCD TOUCHSCREEN
Change settings, choose stitches, and save patterns from the large LCD touchscreen. Additionally, you may access projects, watch video tutorials, browse the internet and more from you machine with the Juki Sewing Net! You can operate the large touchscreen just like a phone!
SNAP AND SEW FEED DOG SYSTEM
Effortlessly switch to a straight stitch sewing machine with the revolutionary interchangeable Single Needle System.
---
User Focused Operability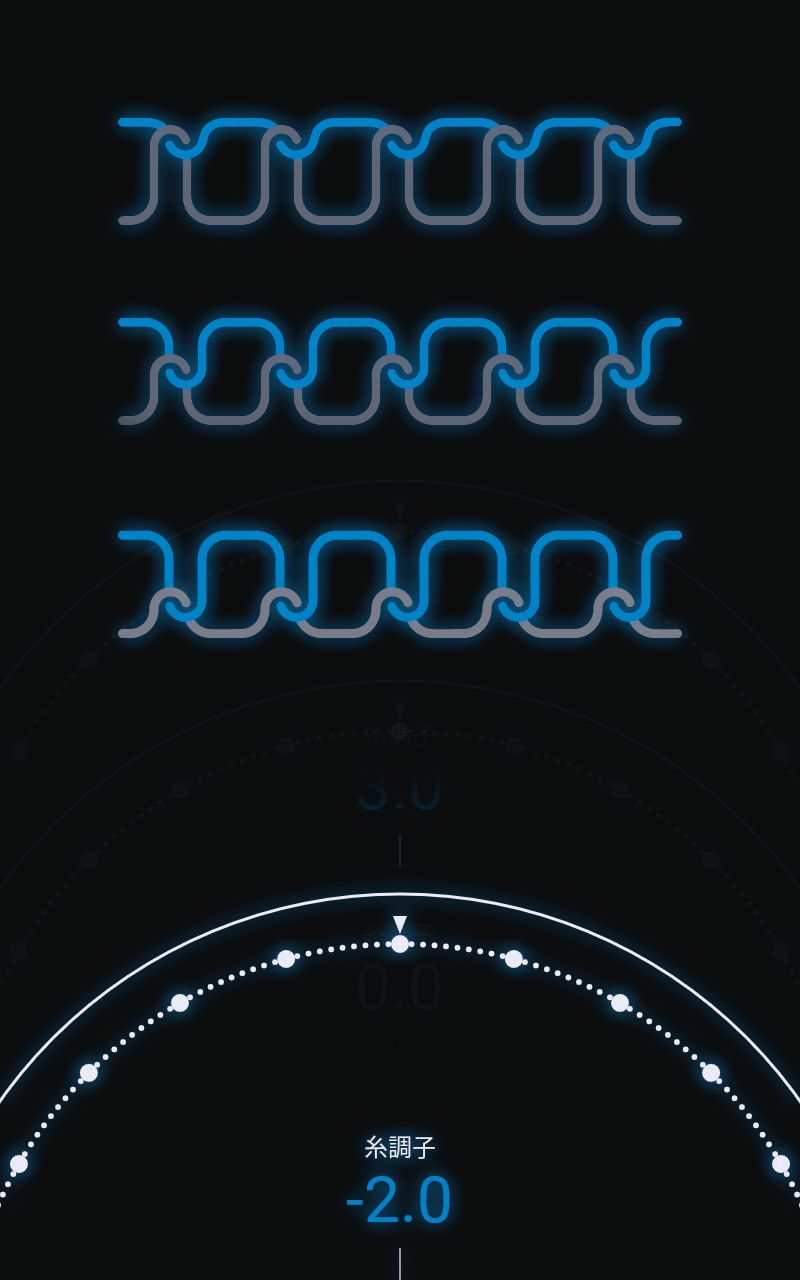 VISUALIZATION OF ADJUSTMENT VALUES
Changes in adjustments can be visualized with animations. Adjust the thread tension by sliding your finger over the scale in the touch panel. The animation changes according to the adjustment value.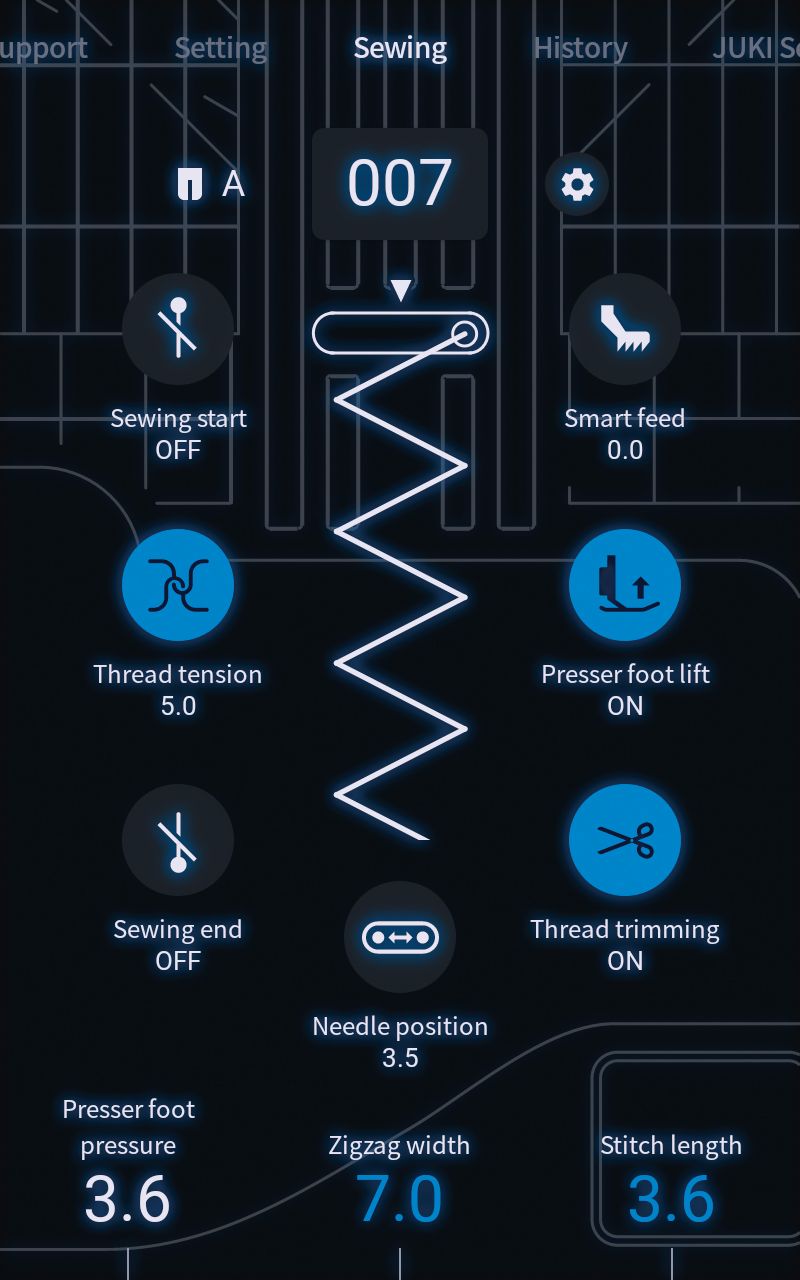 STORE RECALL STITCH PATTERNS
The last 10 stitches are stored in the history. View illustrations of stitch patterns in the history to easily identify and select them with a single touch. The settings that differ from the defaults are highlighted in blue.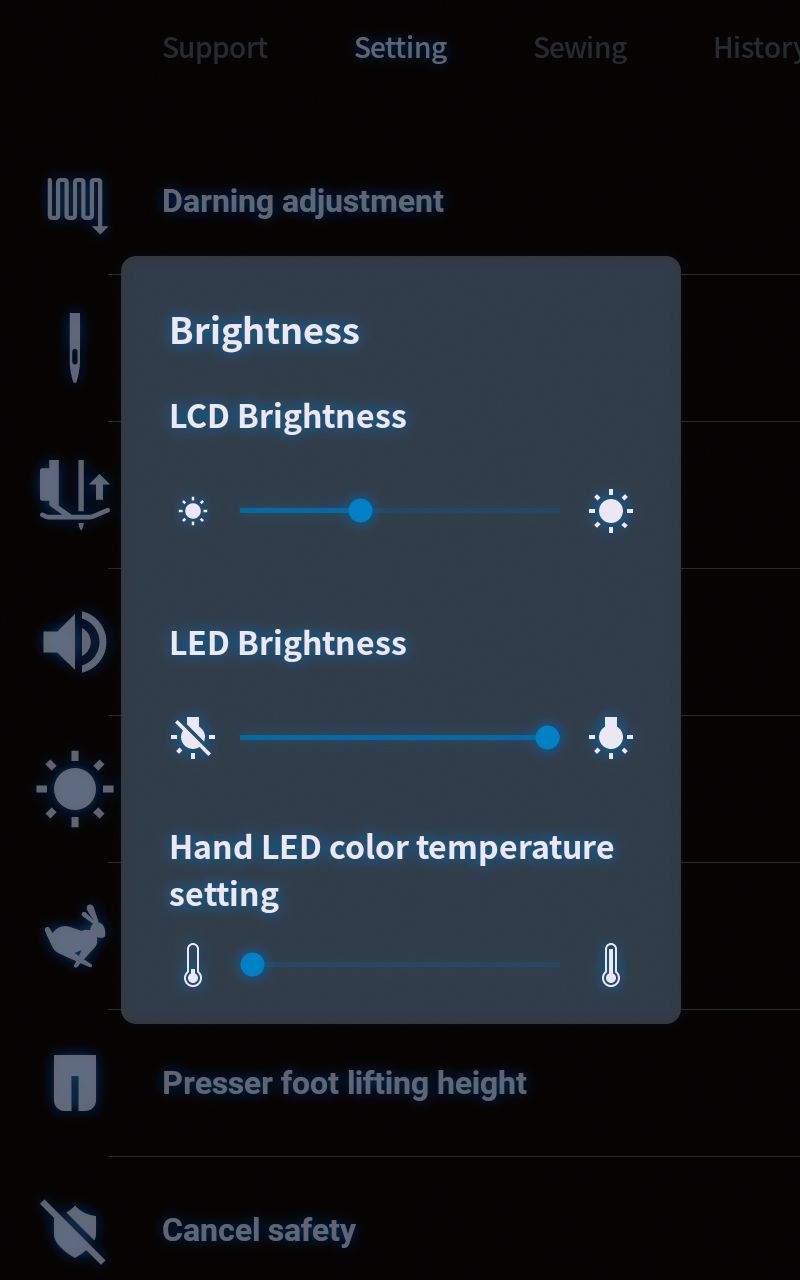 CHANGE COLOR TEMPERATURE OF LIGHTS
Adjust the color temperature of the bulb between daylight and soft white. This eliminates visibility difficulties with certain fabric and thread color combinations.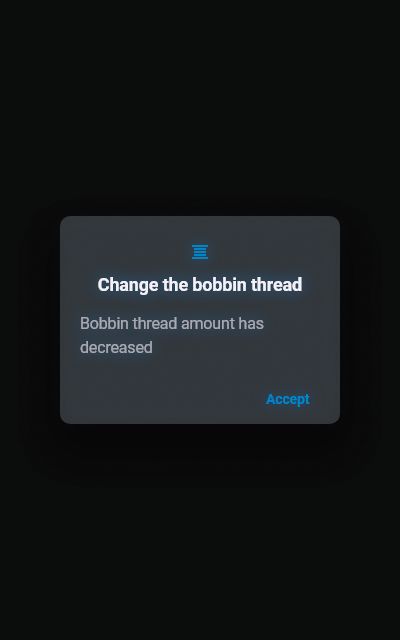 NOTIFICATION BEFORE BOBBIN THREAD RUNS OU
Adjust the color temperature of the bulb between daylight and soft white. This eliminates visibility difficulties with certain fabric and thread color combinations.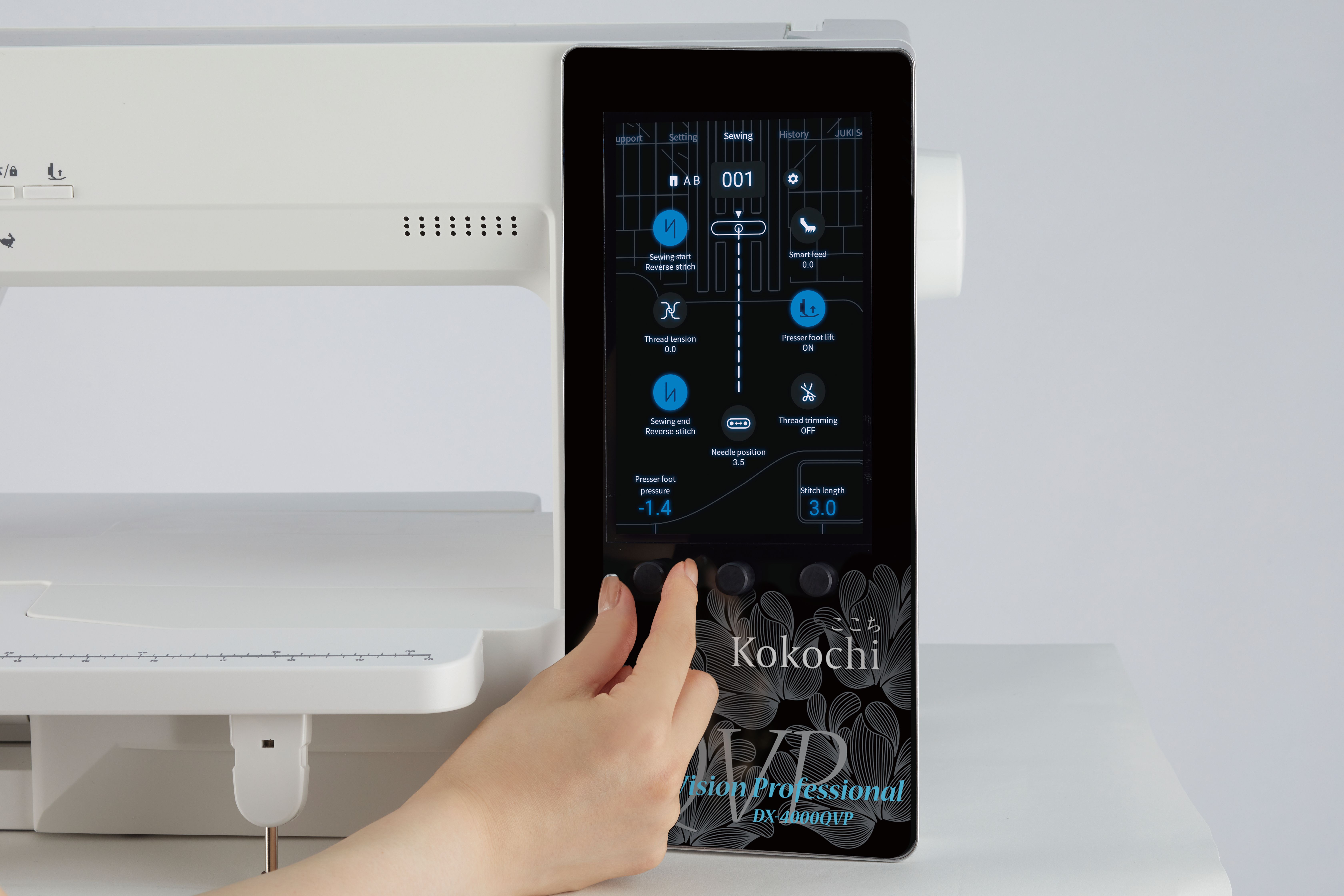 ADJUST THE PRESSER FOOT PRESSURE WITH THE EASILY ACCESSIBLE DIAL
In addition to the popular stitch width and length adjustments, easily adjust the presser foot pressure with a dial below the touch panel. Being able to change the presser foot pressure while sewing allows you to immediately respond to unexpected fabric feeding issues.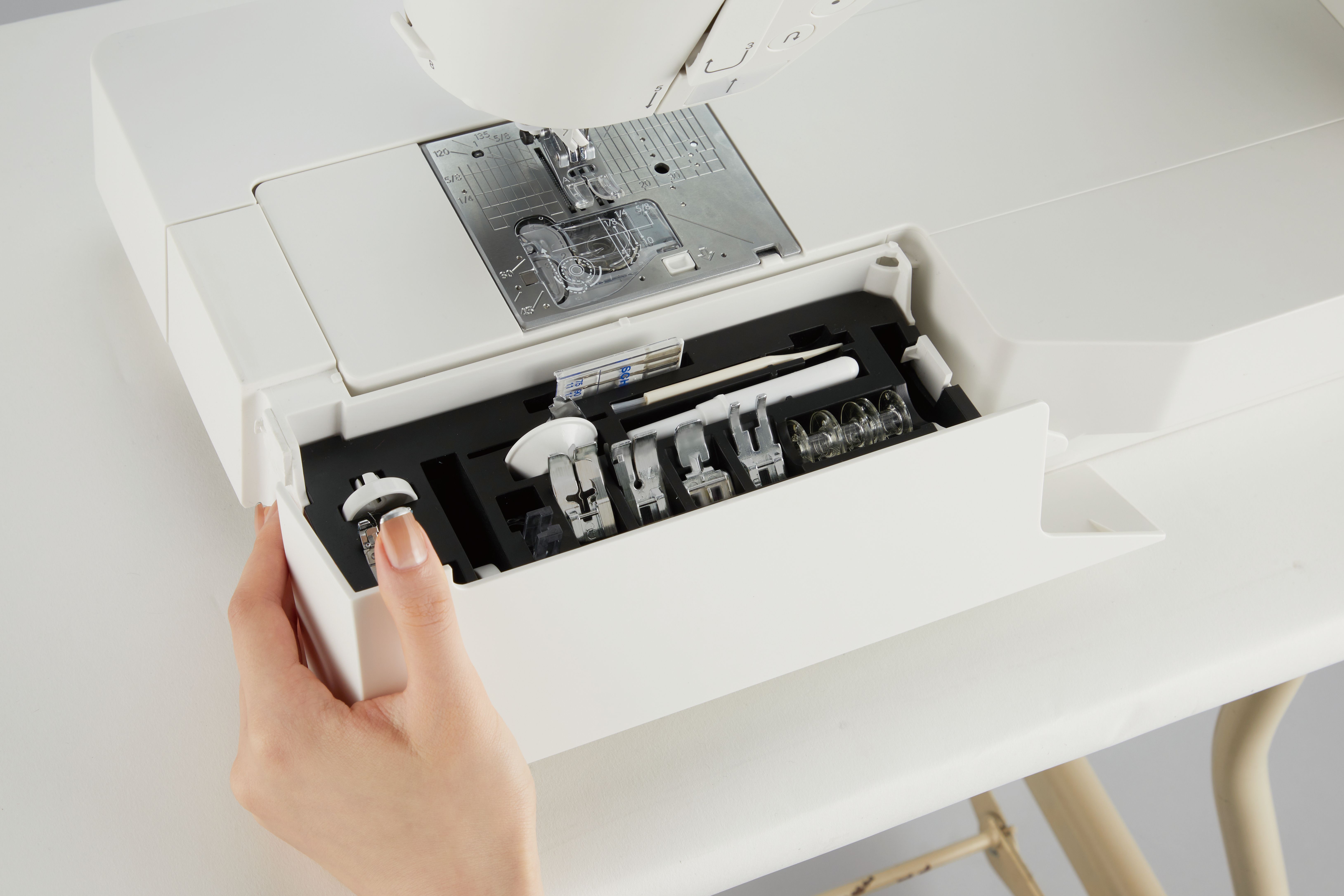 HAVE YOUR FAVORITE ACCESSORIES ALWAYS AT HAND
The auxiliary bed with accessory storage is the first among sewing machines with a 12" workspace. Keep your most often used accessories in their place and at your fingertips.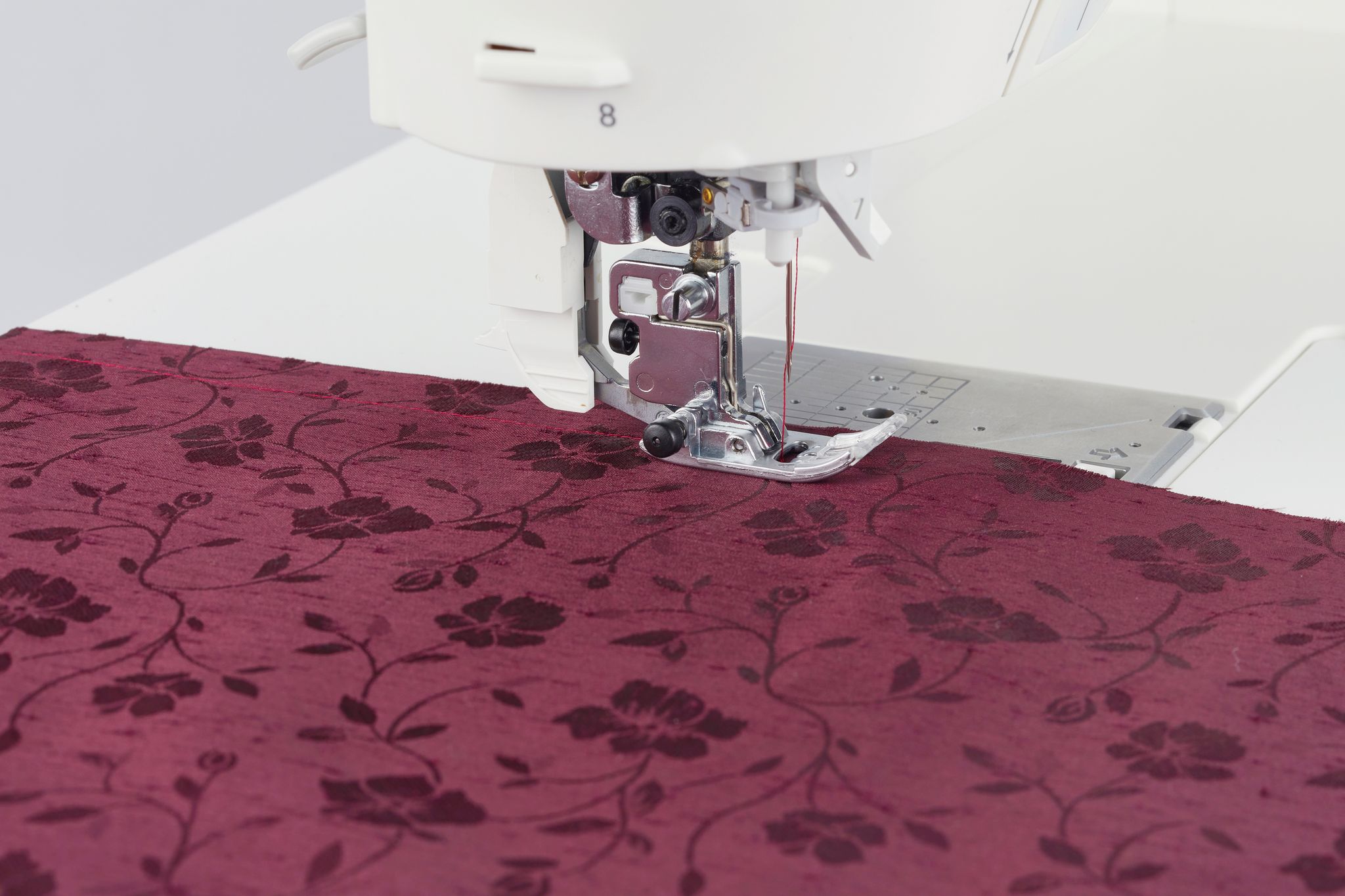 JUKI SMART FEED (BUILT IN DUAL FEED UNIT)
Using JUKI Smart Feed allows you to reduce uneven feeding and stretched stitching of thin fabric. Feeding can be stabilized simply by lowering the unit.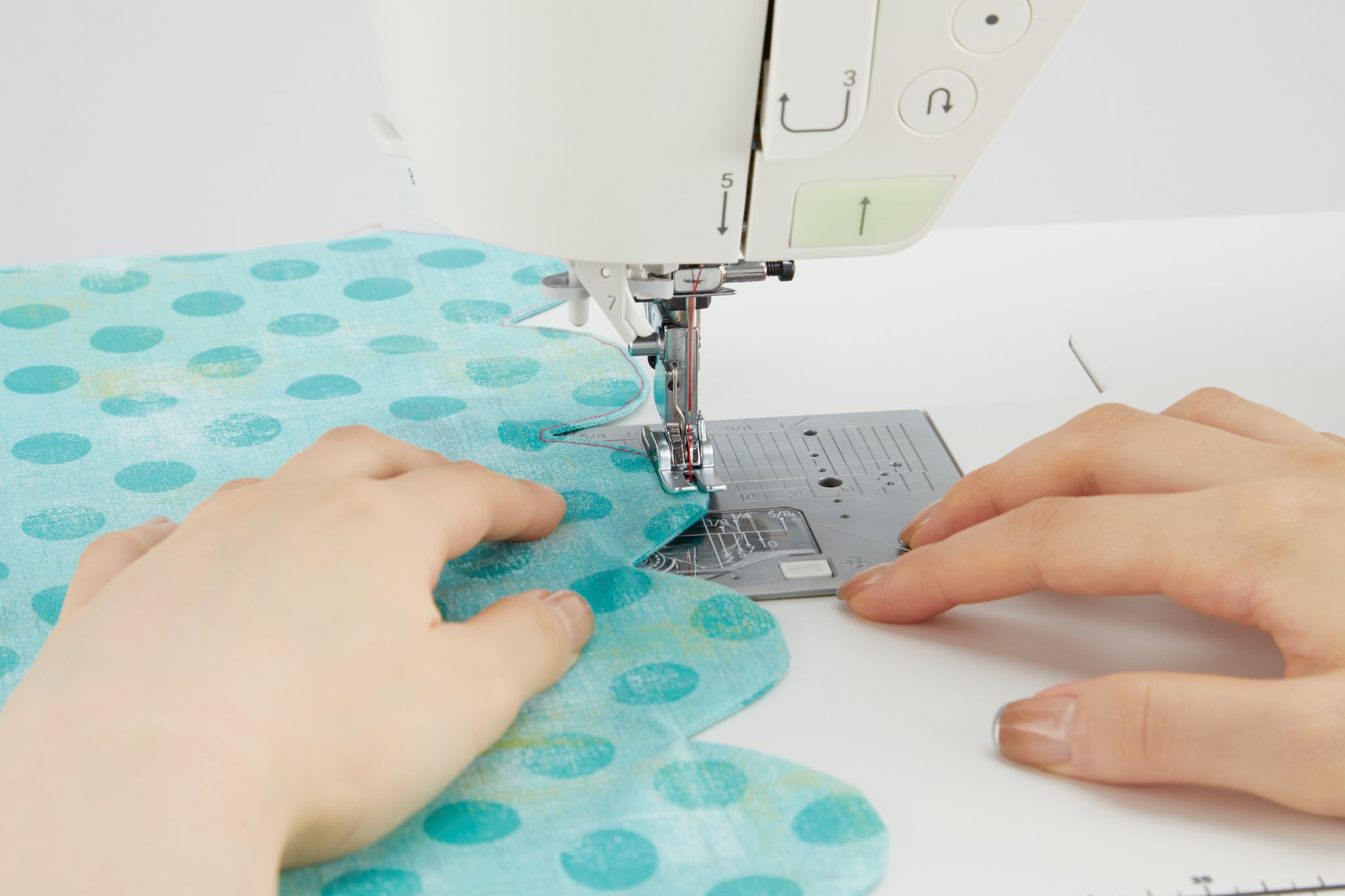 EASILY SWITCH TO STRAIGHT STITCH SEWING
By switching the machines throat plate and feed dogs to straight stitch, you can sew edges and sharp curves. Additionally, with this set up, you can prevent fabrics from being pushed into the needle hole when you begin sewing. You can easily change the presser foot, feed dog and throat plate to straight stitch versions.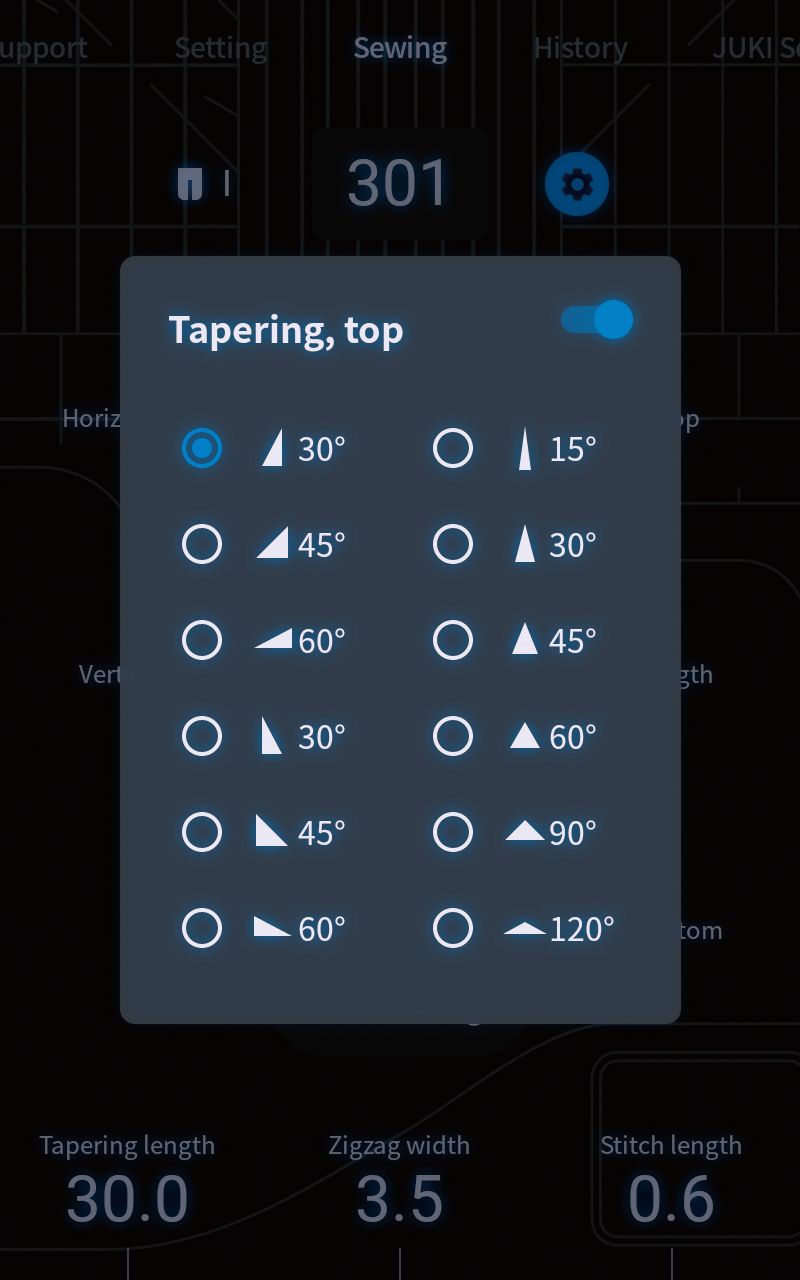 ENJOY MORE VARIATIONS & APPLICATIONS WITH TAPERING
Increased ranges of the angle and direction settings have expanded the possibilities for sewing tapering. You can select the angle and direction for the beginning and end of tapering. You can set a stitch length in advance or store the length of the stitches that were sewn. By using the memory and inversion functions, star-shaped appliqués can be beautifully finished.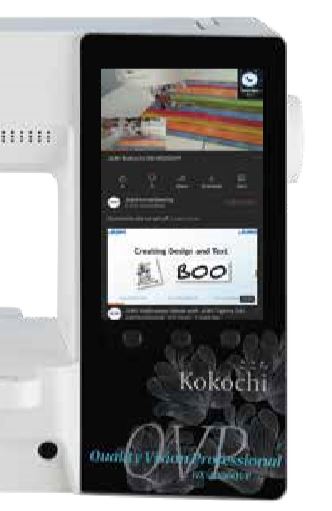 VIEW YOUTUBE VIDEOS OR BROWSE JUKI'S WEBSITE
Connect to the internet to access JUKI Sewing Net from your sewing machine! From the Sewing Net, you can access JUKI's homepage where you may view projects, product information, and more. In addition, you can watch instructional videos of projects and/or sewing machines from JUKI's YouTube channel. With built-in WiFi capabilities, the online JUKI' s sewing world is yours to explore from your machine screen!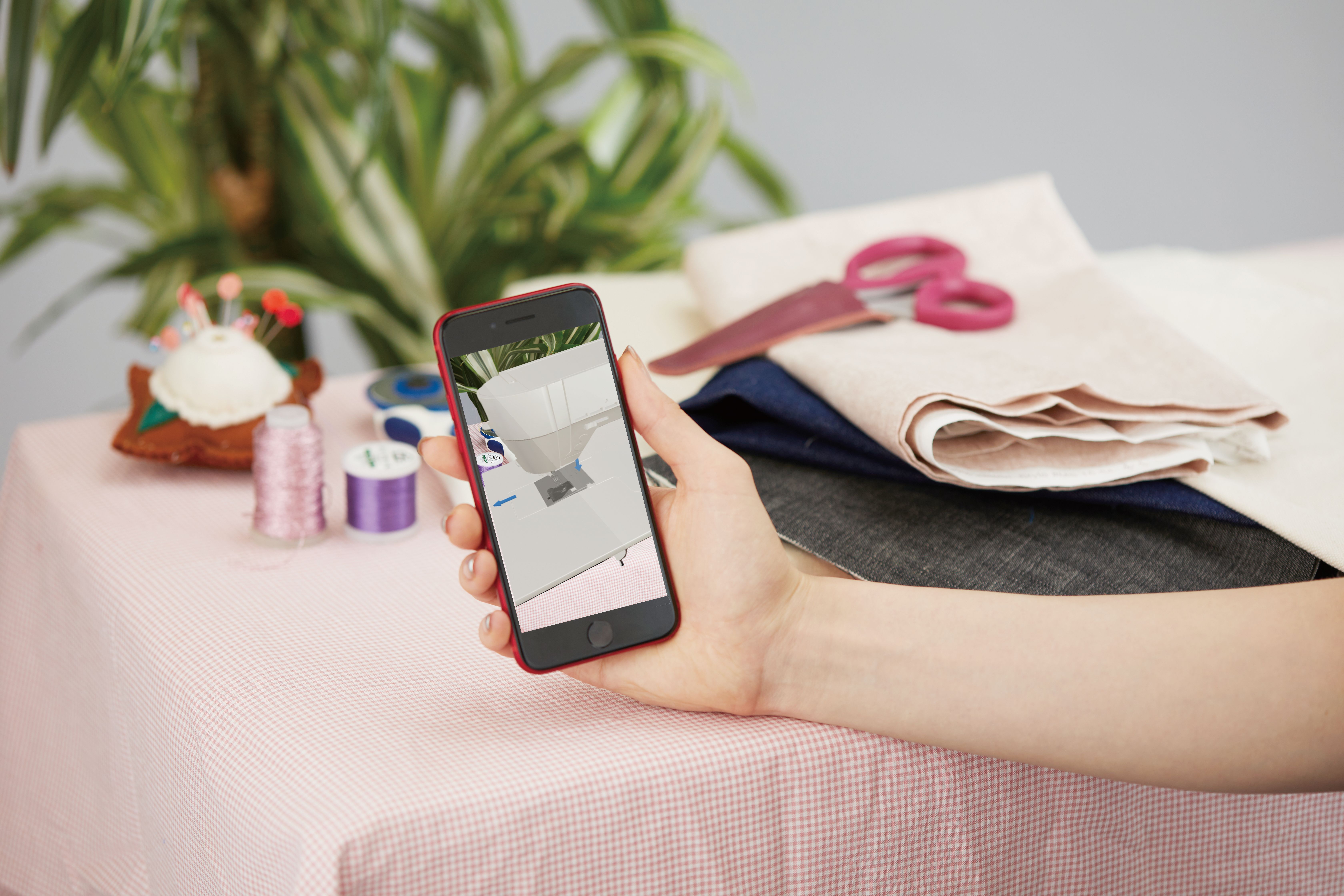 STEP BY STEP INSTRUCTIONS TO YOUR SMARTPHONE
You can view an instructional video on your smartphone by scanning the QR code of the operating procedure. Select the title of the operating procedure that you want to view and follow the step-by-step instructions show in animated video.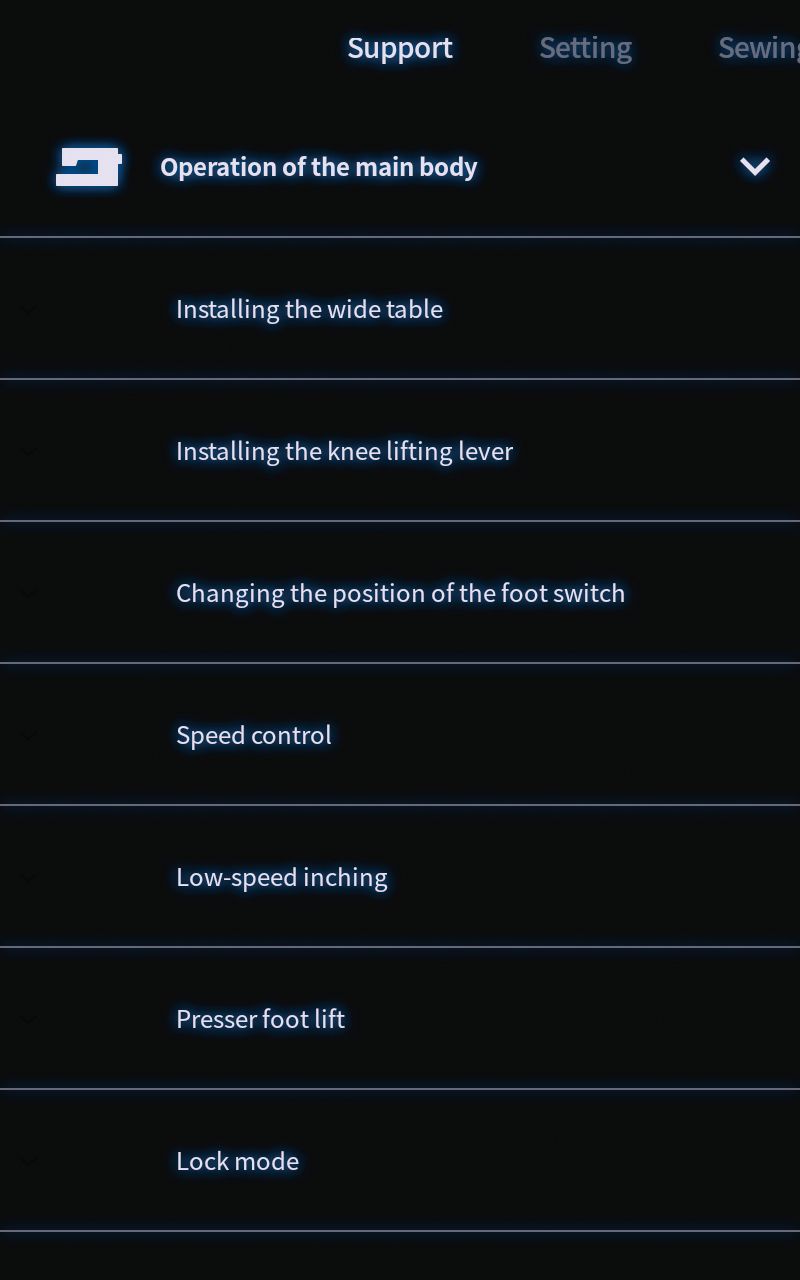 WORLD CLASS SUPPORT
Receive the best support on your machine or on to your smartphone. Never feel lost when you can access the support screen on your machine and receive the help that you need. Juki has got your back.
Specifications and Accessories
SPECIFICATIONS
Control System: Computer
Number of Stitch Paterns:368
Number of Available Fonts:4
Buttonhole: Automatic (Sensor System) with Clamping Plate
Start / Stop Button: Green = Ready to start and/or while sewing. Red = Not ready to start. Orange = When the lock stitch button is pressed while the sewing machine is engaged in pattern sewing.
Maximum Stitch Speed: 1,050 sti/min
Auto Thread Trimming: Yes
Automatic Needle Threader: Automatic Needle Threader
Thread Tension System: Automatic
Automatic Lock Stitch: Automatic Lock Stitch and Thread Trimming
Feed Mechanism: Box Feed Mechanism
Juki Smart Feed: Yes
Presser Foot Adjustment: Stepless Adjustment (Digital)
Drop Feed: Yes
Easy Bobbin Winding: Yes
Bobbin Thread Winder: Bobbin Winder with Independent Motor
Quick Bobbin Preparation: Yes
Lights: 6 LED Lights
Bobbin Thread Counter: No
Bobbin Thread Run-Out Sensor: Yes
Function to Straight-Line Stitching: Straight Throat Plate, Feed Dogs, and Presser Foot
Micro-Lifter: Presser Foot Pressure Settings by Dial
Free Arm: Yes
Change in the Length/Width of Stitches: Dial System / LCD Numerical Display; Stitch Width: Max. 7mm; Stitch Length: Max. 5mm
Number of Needle Positions (Straight Stitch/Other Than Straight Stitch): 37 / According to Pattern
Pattern Reverse: Up / Down and Left / Right
Twin Needle Sewing: Yes
Elongation Pattern: Yes
Yes (Twin Needle is Option)
Adjustable Starting / Reverse Stitch Speed: Yes
Needle Up/Down Button: Yes
Low-Speed Inching Sewing: Yes
Needle Stop Position Switching: Yes
Presser Foot Pivot Function: Yes
Save/Call of Patterns: 10 patterns
Horizontal Presser Foot Holder Button: Yes
Height of Lift of Presser Foot: (1 Step / 2 Steps): Button system = 6?8?10mm / 12mm; Lever system: 6mm / 12mm; Knee-lifting Lever system: 6?8?10mm / 12mm
Lock Mode: Yes
Operation Guide: Displayed as Animation, Illustrations, and Text
Dimensions: 23.7"(W)×12"(H)×10.4"(D)
Arm Size: 12"(W)×4.7"(H)
Weight: 32.8lbs
ACCESSORIES
Sewing Machine Cover: Soft Cover with Accessory Storage
Auxiliary Bed: Yes
Knee Lift: Lever
Wide Table: Yes
Foot Controller: Yes (with Separate Foot Switch)
Standard Presser Foot (A)
Straight Presser Foot(S)
Zipper Presser Foot (B)
Overcasting Presser Foot (C)
Blind Stitch Presser Foot (D)
Buttonhole Presser Foot (E)
Manual Buttonhole Presser Foot (I)
Open Toe Presser Foot (O)
Patchwork Presser Foot (P)
1/4" Guide Foot
Quilt Presser Foot (For Ruler) (Q)
Edge Sewing Presser Foot (R)
Zigzag Free Motion Quilting Set (Quilt presser foot (zigzag type)
Presser Foot Holder Setscrew
Adapter Shank
Needle Setscrew
Straight Throat Plate
Straight Feed Dog
Bobbin (4)
Needle Set HA X 1 # 11 (1): # 14 (1): # 16 (1): for knit # 11 (1)
Quilt Guide
Auxiliary Spool Pin
T-Shape Screwdriver
Ripper
Cleaning Brush
Spool Cap (Large)
Spool Cap (Middle)
Spool Cap (Small)
Foot Controller
Knee Lift Lever
Power Cord
Wide Table
Sewing Machine Cover
Quick Reference Guide
Accessory Box